The office of International Affairs (OIA), Universiti Teknologi MARA (UiTM),(University technology of Mara) has sent an invitation to IUT students and faculty members to register for 'ASEAN University Students Leadership Conference 2020' and 'ASEAN Virtual Student Residential Innovation & Technology Competition 2020. They are trying to inform you all about the upcoming events in UiTM. Here are the details for the events:

1. ASEAN UNIVERSITY STUDENTS LEADERSHIP CONFERENCE 2020 _ "DEFINING ROLE OF STUDENT LEADERSHIP IN FACING PANDEMIC COVID-19"
In collaboration with ASEAN University, Perindu College Representative Committee Lineup 2020 Session 2020/21 will organize the ASEAN University Student Leadership Conference Program 2020, This program is a conference that seeks to provide opportunities for student leadership in discussing the direction, issues, and approaches in several aspects such as Leadership, Sports and Health, Humanitarian & Volunteerism, Global & Network Mobility, Economy & Entrepreneurship, Arts & Culture, Open Distance Learning (ODL), and Innovation
This program aims to create a Global Network and collaboration of students, educators, policymakers, management, and lecturers.
* Important Date *:
Abstract Submission: 25 September 2020
Receipt Notification: 26 September 2020
Presentation Date: 28 September - 1 October 2020
Submission of Full Paper to the Secretariat: 27 September 2020 - 16 October 2020
For any inquiries, you may directly contact the Program Director, Mr Soleh (+601133491050)
http://www.wasap.my/+601133491050//AUSLC2020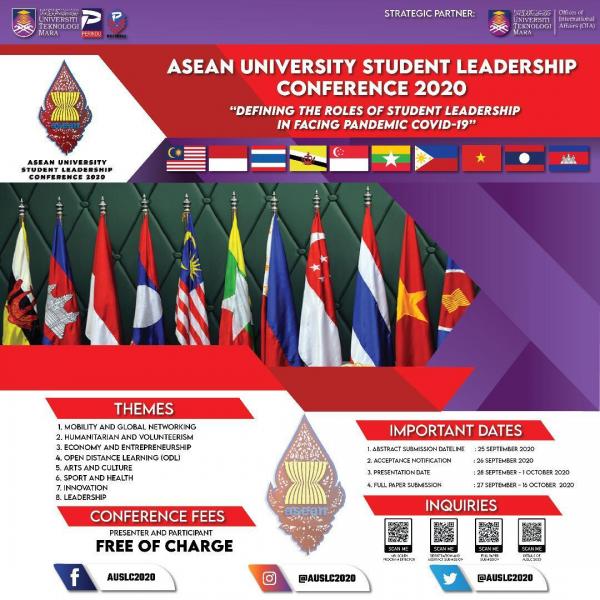 2. ASEAN VIRTUAL STUDENT RESIDENTIAL INNOVATION & TECHNOLOGY COMPETITION 2020
College Representative Committee (JPK) Perindu Residential College UiTM Shah Alam with strategic partner, Office International Affair (OIA) UiTM are inviting residential's students to join ASEAN Virtual Student Residential Innovation & Technology Competition (RENNOTECH) 2020.
Type of Competition:
-Short Video Challenge
-Infographic Poster
-Idea Pitching
Category and Fee :
University: MYR 250.00
High School: MYR 150.00
Important Dates :
15/9 - 15/10/2020: Registration
 17/10/2020: Acceptance Notification
 20/10/2020: Poster & Video Due Date
 27 & 28/10/2020: Presentation Day
 5/11/2020: Winner Announcement
Any inquiries, directly contact: Mr. Aiman Amin (http://www.wasap.my/601138395034/RENNOTECH2020)
Kindly refer to the attached posters for further information. For the registration and any inquiries, you may contact the program director of respective events or email to nurhashimah@uitm.edu.my (Ms. Nur Hashimah Alias).