Isfahan Universities Network for International Cooperation (IUN)
The Consortium of International Activities of Isfahan's Leading Scientific and Technological Centers was established in March 2019 between Isfahan University of Technology, the University of Isfahan, Isfahan University of Medical Sciences, Isfahan University of Arts, and Isfahan Science and Technology Town.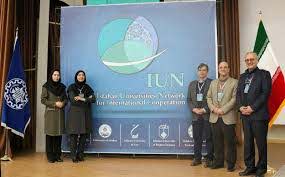 The purpose of this consortium is to synergize the capacities and merits of Isfahan's leading universities and scientific centers in order to promote scientific and international cooperation and to guide universities to higher international levels by carrying out joint activities and projects.
The goals of this consortium are:
Synergizing the capacity and merits of the leading universities and benefiting from each other's facilities such as experimental, research capabilities, international communication, physical space and so on.
Developing scientific-cultural cooperation at national and international levels.
Promoting the level of the member universities to higher sustainable international rankings.
Improving legal organizational structures and reviewing them using the experiences of the member universities.
Increasing educational exchanges and the number of international students.
Exchange of information and cooperation on international branding and marketing.
Exchange of ideas on the research priorities of the member universities to manage and explain the joint international scientific conferences and workshops as well as establishment of joint scientific associations.
Sharing welfare facilities to host international delegations.
Presenting interdisciplinary majors and using the facilities of the member universities to hold classes and supervise theses and doctoral dissertations.
Raising the possibility to visit the laboratories and scientific-research units of the parties to create more joint international cooperation.
Collaboration on authorship and publication of international scientific-research books and journals.
Preparing joint and public brochures to be presented in international exhibitions.
Obtaining information on the scientific-research needs of the Contracting Countries to the Islamic Republic of Iran through the Ministry of Foreign Affairs; working on joint cooperation strategies with higher education institutions of these countries and visiting scientific delegations from universities and research institutes of that country to the target country to have further investigations on the topics in progress, with coordination of the Iranian Embassy in the target country.
Holding scientific-cultural competitions and student scientific trips with the contracting countries in coordination with the Ministry of Foreign Affairs in Isfahan province.