IUT Visitors
ISCO makes efforts to expand IUT cooperative activities in the research-educational fields with various world universities. As one of the leading universities in IR Iran, IUT is also an internationally well-known university. Due to its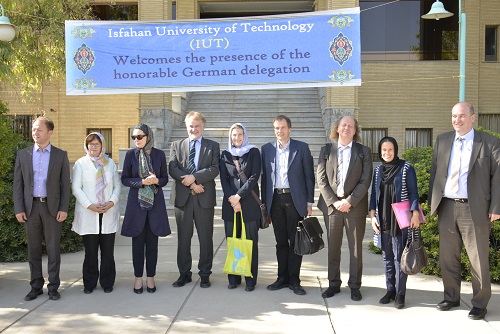 outstanding research projects, most of the eminent scientists around the world are interested in visiting this university which is located at the central part of Iran beside the cultural and historical city of Isfahan.
Every year, IUT receives more than 90 international scientists who come here either to visit, do research or deliver lectures and workshops. ISCO assists in inviting the international scholars. After the invitation decision and application are made by an IUT faculty, the office will provide faculty with appropriate instructions on the visa process. It aids visitors in their visa process, accommodation at IUT Guest House and Isfahan tours.
According to the regulations of the Iranian Ministry of Foreign Affairs, a visa is issued for a maximum stay of 30 days with option of Extensions in Iran. The visa remains valid for a period of 3 months from the date of issue. The following items is required by Iranian Ministry of foreign affairs.
Please provide us with the following documents:
Digital image of passport in accordance with the requirements announced, (in color, in JPG format, equal or more than 500kb, only the first page, 800x600 pixels in dimension. The passport must be valid for at least 6 months beyond intended stay and must have at least one blank page. )
Digital personal photo in accordance with the requirements announced  (in jpg format, in color, equal or less than 240kb, be sized in 600 *400 pixels, taken within the last 6 months)
Resume or curriculum Vitae
Visa Form which is to be completed by the guest himself/herself.
Form No. 1 which is to be completed by IUT faculty who is hosting the guest during the visit.
After providing us with the requested information, ISCO will be able apply for visa via E-visa website (http://evisa.mfa.ir/en/). ISCO inform you after that the Ministry of Foreign Affairs has issued your Visa. 3 days after issuing the Refrence Number, the applicant should present at the relevant Iranian Embassy in person and represent the Reference No. along with the IUT invitation letter (signed Form2) and their passport to recieve the visa. Please do not forget to coordinate with the embassy regarding the time of your presence.
Needed Forms
American, UK & Canadian citizens:
Other citizens:
Warning: Cannot modify header information - headers already sent by (output started at /hard2/iutcent/includes/common.inc:2794) in /hard2/iutcent/includes/bootstrap.inc on line 1486
Warning: Cannot modify header information - headers already sent by (output started at /hard2/iutcent/includes/common.inc:2794) in /hard2/iutcent/includes/bootstrap.inc on line 1486
Warning: Cannot modify header information - headers already sent by (output started at /hard2/iutcent/includes/common.inc:2794) in /hard2/iutcent/includes/bootstrap.inc on line 1486
Warning: Cannot modify header information - headers already sent by (output started at /hard2/iutcent/includes/common.inc:2794) in /hard2/iutcent/includes/bootstrap.inc on line 1486